The story goes like this:
A nearby star, Betelgeuse, is nearing the final stages of its life. It is already a hugely swollen Red Giant and has started acting strangely. It's brightness is flickering, and Astronomers have seen that it is forming bumps and dark patches. Within the next few years, it is going to go supernova and our Solar System will be caught up in the blast. The government (for in stories like this, the convoluted structures of bureaucracy and competition between infighting departments that make up our modern democratic governments always reduces to one unified sinister force) has known about this for some time and is keeping it from us. Because, you know, that's what they do.
Variations of this story have started appearing all over the internet, usually with some mention of
ancient Mayan prophecies
or
Planet X
so as to hop on the
2012
bandwagon. But is it true?
Let's establish a few facts. Betelgeuse is one of the brightest stars in the constellation of Orion. It is very bright in the night sky and shines with a dull orange colour. It is a Red Giant, which indicates that it is very old and is in the final stages of its life. Soon it will run out of fuel and collapse. It is such a massive star that the collapse will trigger a supernova explosion. It is approximately 640 light years away, although it was previously thought to be closer than this (Our measuring techniques have become more precise over time). It is so huge that, with it's relative closeness, the latest telescopes and most modern imaging techniques have actually managed to capture a direct image of the star itself, whereas most stars are usually only visible as point sources of light. These images have indeed revealed that the star is not perfectly round, that regions are violently turbulent, and that it has mysterious dark patches appearing and disappearing on the surface.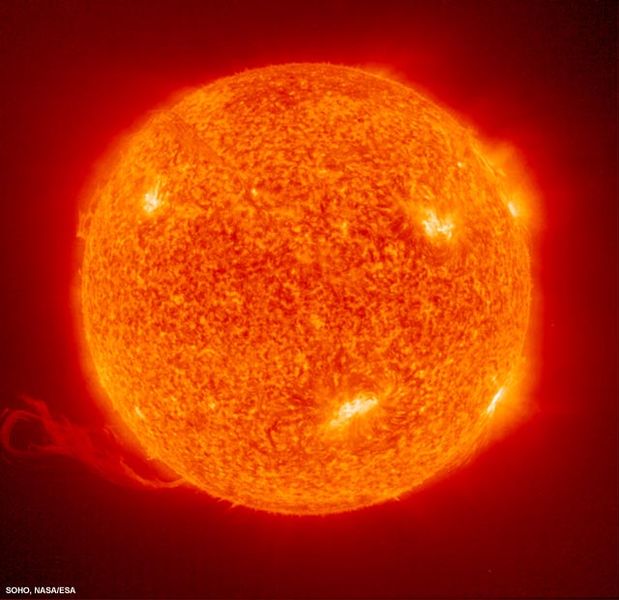 And now the story starts to unravel, because these features are the same features we see on our own
Sun
all the time, except that they're on a vastly bigger and more violent scale (which, considering the size and luminosity of Betelgeuse, is only to be expected). A star is a constantly churning ball of superheated plasma with a sustained nuclear fusion reaction at it's heart, after all! Admittedly,
Betelgeuse has definitely been shrinking
over the last few years, but this isn't really surprising either since it has always been known as a long period variable star.
So in a nutshell, everything we know about Betelgeuse matches current theory. And yes, one of the things that theory predicts is that it is definitely going to go supernova soon, but none of the "new evidence" suggested in the scare stories is actually new. What does this mean? We need to remember that astronomers, like geologists, are used to talking about things that take millions or billions of years to happen. When we use words like "Soon" or "Quickly", it's important to remember that context. In the case of a star like Betelgeuse, "Soon" means "Within the next few thousand years, maybe". So it's impossible to tell – we don't really know enough about how stars explode to be any more precise than that and even if we did, we don't have a clear enough picture of what's happening with Betelgeuse to make a meaningful prediction anyway. It could happen in ten thousand years time, it could happen tomorrow. All we know is that it will happen.
When it does, though, what does that mean for us on Earth? When Betelgeuse blows, it will be a
Type II supernova
. Models of this type of supernova give reasonable estimates of the amount of radiation and stellar material which will be cast out, but estimates of the minimum safe distance vary considerably, from 25 to more than 200 light years. This seems to depend on what the author's consider to be "safe". At a very close distance, the Earth could be completely destroyed, while at the furtherest distances we might just lose the ozone layer, have some spectacular Aurora Borealis and Australis, and find the few months of extra radiation causes cancer rates to go up for a while. However, Earth is more than three times further away from Betelgeuse than even the most pessimistic figures. We will see Betelgeuse become so bright that it shines during the day. In the evenings it will cast a shadow, and make backyard astronomy very difficult (Assuming that Betelgeuse is visible at the time, and not behind the Sun). After about a month, it will begin fading until after a few more months it will have vanished completely. Over the years, people watching through telescopes will see the remnants gradually blossoming out into a gorgeous planetary nebula (named for its appearance in small telescopes, not because it has anything to do with planets). It will be a stunning sight which nobody alive will ever forget, but we will be perfectly safe. Sorry to disappoint!
---