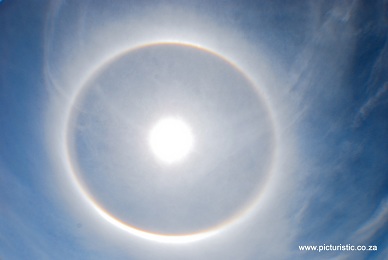 Most people have seen many Rainbows in their lives, and know that they have something to do with the sun shining through rain. But the simple elements of water, ice and sunlight produce an astounding array of beautiful effects, of which the rainbow is merely the most common. Most, like Halos and Sundogs, have been known to those who keep an eye on the sky for centuries. The ethereal Glory, on the other hand, was only discovered recently as it can only be seen from high altitude aeroplanes, or mountain peaks.
On 1 November, for an hour or two in the mid-morning, South Africans in the province of Gauteng were treated to something most had never seen: A bright
Halo
circling the Sun. With an angular diameter of 22 degrees and bright rainbow colours, people were dragging each other out from behind their desks to step outside and see something new. Caused by high altitude ice crystals in the shape of hexagonal prisms, Halos are actually extremely common with about two occurrences per week. Unlike rainbows, however, one has to stare upwards towards the Sun to see them, which is why they almost always go unnoticed.
The field of Atmospheric Optics is a fascinating one, and a more complete description of known phenomena, both rare and common, can be found here:
http://www.atoptics.co.uk/