So the clever folks at CERN just finished a big announcement regarding their
discovery of a New Particle
. I'm not a particle physicist and I haven't finished reading the official report, but I have been following the tweets coming out of the conference hall. From what I gather, they've found a new particle, which matches the predictions made by the Standard Model for the Higgs Boson. Now these are very serious, cautious scientists (as evidenced by their handling of the
Neutrinos seeming to travel faster than light
incident), so they aren't saying that they've found the Higgs Boson. They're saying that they've found a Thing, which looks and smells just like it, which sounds like the same thing to me. This is probably why CERN returned my resume, unread.
Keep checking this post every few hours, though – I'll be updating it as I get a better understanding of the reports.
(Oh, and the Higgs Boson is frequently referred to by the popular media as The God Particle. Apparently this name was coined by an editor somewhere, who knew a good headline when he saw it. Physicists tend to look at the material world, and leave God to the philosophers. I only mention this because it's a cheap way to attract search engine traffic!
Correction: It was not an editor with a headline. It was a physicist named Leon Lederman. He won a nobel prize, and coined the phrase as the title of his bestselling book. Apparently he chose the name to indicate the importance of the particle to the physics community, and was not making religious implications. He is on record as having expressed regret that his editor rejected the original title: "The Goddam Particle". You can read more on how much the name has irritated scientists here.
---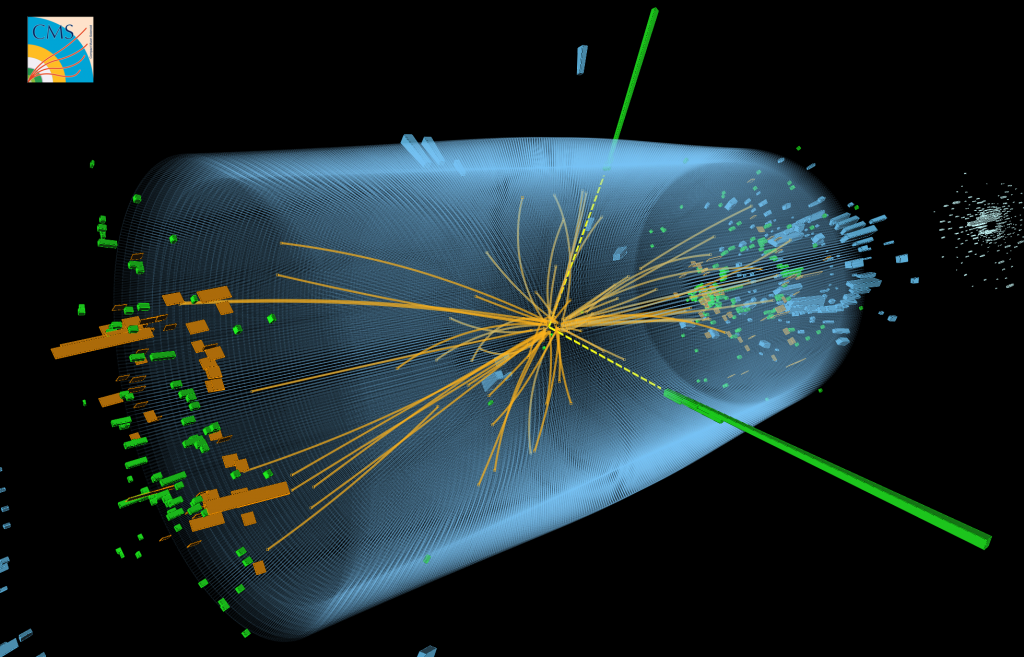 Event recorded with the CMS detector in 2012 at a proton-proton centre of mass
energy of 8 TeV. The event shows characteristics expected from the decay of
the SM Higgs boson to a pair of photons (dashed yellow lines and green towers).
The event could also be due to known standard model background processes.
Image source: CERN
Okay, so now I've done my homework, and I have a better understanding of what's going on. The short version is that the Standard Model of physics predicted certain possible masses for the Higgs Boson. Previous experiments had eliminated all the possibilities but one, meaning that if the Higgs Boson exists then it must have a mass of about 125 GeV (pronounced Giga Electron Volts). Why are they not measuring the mass in kilograms? Standard SI units are too unwieldy at the level of particle physics, so new units are needed. As you'll remember from General Relativity, mass and energy are just different forms of the same thing. When looking at the universe on a quantum scale, where atoms are considered very large, that duality becomes very meaningful and physicists are able to use measures of energy (like the electron Volt, a vanishingly small quantity, equivalent to the amount of energy it takes to move a single electron through a one volt electric field) as measures of mass. So the physicists at CERN were smashing protons into each other at obscene energy levels, and looking for something with a mass of 125 GeV. Yesterday, they announced that they'd found it. There was an awful lot of talk about the diffculties of picking out that particular signature amongst an ocean of noise, and the ridiculous numbers of measurements that needed to be taken to be sure that what was measured was a real thing and not just a random spike, but the gist of it all is that they found a previously unseen particle that has the same mass as predicted for the Higgs Boson. They did NOT say "We found the Higgs Boson"
The general response has been "If it walks like a duck and swims like a duck, then it must be a duck". But the reason for their caution is simply that this mass is the ONLY thing we know about the new particle. Now that it's been seen, they have to work on isolating it and studying it further, to discover its other properties – things like spin, charge, and so on. Only once they ALL match theory, can they say with honesty that the new particle is in fact the fabled Higgs Boson. Any other result would again be a challende to the Standard Model.
The odds of it not being the Higgs are vanishingly small, of course – the coincidence of there being some other particle with the same mass seems unbelievable. But these are scientists and they know that coincidences happen. Therefore they will continue to work and make 100% certain that they are right.