Las Vegas Death Ray optics demonstration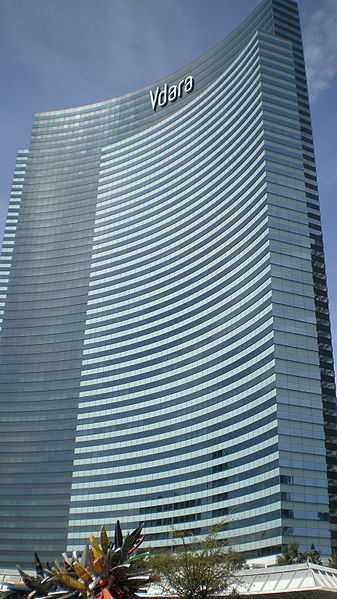 The MGM Mirage Vdara hotel in Las Vegas has a graceful curved shape which carries some unexpected consequences:  guests lounging around the pool at the wrong time of day can get a nasty surprise in what staff jokingly refer to as the "Death Ray".  For about 3 hours every day around noon, a small zone of intense heat moves slowly across the pool deck, startling anybody who happens to be in the way.  The owners of the hotel are aware of the problem and are working on various solutions, including screens of vegetation and thick umbrellas.
So why mention this on an astronomy website?  Well the curve of the building is similar to the shape of a telescope's primary mirror.  Everybody is familiar with a standard spyglass telescope, which has a large glass lens at one end which focuses the light into the eyepiece.  But high quality lenses are hard to make, and large glass lenses tend to distort and warp under their own weight.  Astronomers discovered hundreds of years ago that the same effect could be achieved with a curved mirror, and most astronomical telescopes now are mirror-based designs.  Light reflecting off a curved mirror also focuses at a point, as you can see yourself with a shaving mirror, a scrap of paper, and a sunny day:  Just position the mirror in the sun and hold the paper in the reflected light.  Move it back and forth till you find the focus (just like with a magnifying glass) and watch the paper burn!
So this is the situation at the MGM Mirage Vdara:  The sun rises in the morning and moves across the sky.  As noon approaches, the light from the sun shines at an angle approaching the centre of the hotel's curvature.  It reflects from the hotel's glass, towards a focal point several meters across (It's not a perfect parabolic curve, so the focus is fortunately diffuse!) which happens to be near the pool.  As the sun moves across the sky, the focal point shifts across the pool deck, until eventually the angle is once again large enough that the effect diminishes and is no longer noticeable.
Of course the architect would have taken the blame, although I do sympathise.  After all, it's not likely that he knew enough about optics or astronomy to predict that his hotel would have a built-in Death Ray!