Namibian Spaceball Mystery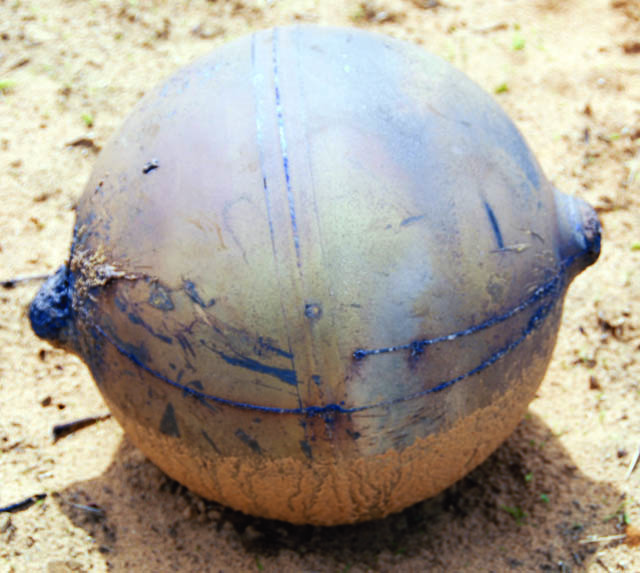 Some time between 15 and 20 November 2011, farmers in the Omusati region of northern Namibia were startled by what sounded like an explosion. When the police came to investigate, they found no evidence of explosives but instead discovered a large metal sphere lying about 18 meters away from a shallow impact crater. Unable to identify it themselves, they handed it over to the National Forensic Science Institute for further study.
According to the institute's director, Paul Ludik, the sphere, which is 110 cm's across but weighs only 6kg, must have fallen from space although it is not of extra-terrestrial origin. It is made of an alloy commonly used in space vehicles, and similar objects have been found in South America, Southern Africa and Australia before.
"A number of tests have been performed on the object, and it appears to be hollow. We are still busy with a detailed examination of the object", he said and added that he would be very surprised if it turned out to be from a normal aircraft. The explosions reported by the locals were most likely sonic booms as the sphere broke the sound barrier upon entering the Earth's atmosphere.
Ludik says that the institute has contacted various space agencies to determine the exact origin of the sphere, but has had little luck so far as space agencies don't often acknowledge when parts of satellites break off and return to earth. No agency has yet claimed responsibility up for the sphere.
Judging from appearances, the sphere is likely a pressure vessel of some sort. Similar vessels were used on the space shuttle as gas bottles, and are built to be extremely tough which explains how they survive re-entry intact.