Proved: Supernovae cause Cosmic Rays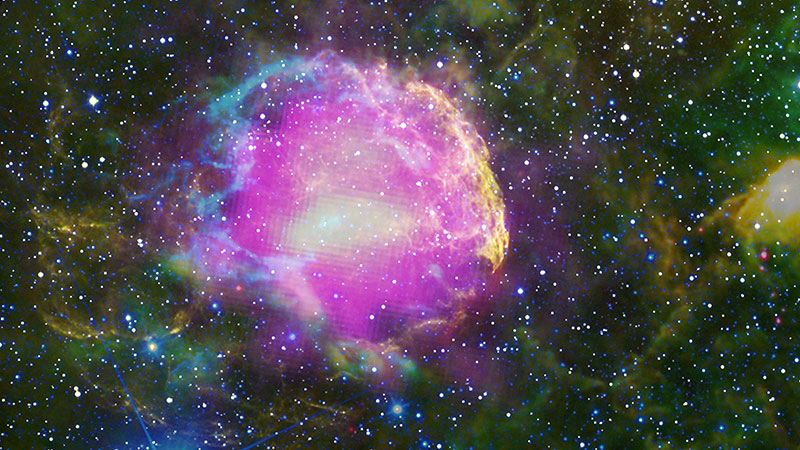 The bulk of cosmic rays are protons, with the remainder being either electrons or atomic nuclei. Since these particles all carry electric charge, they're easily deflected by passing magnetic or electric fields, making it impossible to know what direction they originally came from. We usually only see them indirectly, when they smash into atoms of gas and release gamma radiation, whether in our own atmosphere or distant nebulae in space.
For decades, the main theory for the source of cosmic rays has been supernova explosions. Charged particles trapped in a supernova remnant's magnetic field swoop back and forth with a chaotic path, and ocassionally pass through the explosion's leading shockwave. Each time this happens, the particle gains more energy until it is finally able to break free of the magnetic field and escape into space as a cosmic ray.
The Large Area Telescope (LAT), one of two instruments on Fermi, has been observing gamma-rays in the million to billion electron volt (MeV to GeV) range, shining from two supernova remnants catalogued as IC 443 and W44. Visible light photons, by comparison, have energies between two and three electron volts. Four accumulated years worth of data began to reveal a characteristic feature in the gamma-ray emissions of both supernova remnants. This feature matches the decay of a short-lived particle called a neutral pion, observed in particle accelerators when protons are collided with each other. This proves that both supernova remnants are producing high-energy protons, and points to supernovae as the source of cosmic rays.
There is still a lot of work to be done to understand exactly how it is that supernovae are producing these protons in the first place, and more observations are needed to see if all supernova remnants have the same characteristic fingerprint observed in IC 443 and W44.
IC 443 is better known as the Jellyfish Nebula and is about five thousand light years away in the constellation Gemini. It is thought to be about ten thousand years old. W44 is twice as old, and lies in Aquila some nine thousand five hundred light years away.