Record number of Near Earth asteroids discovered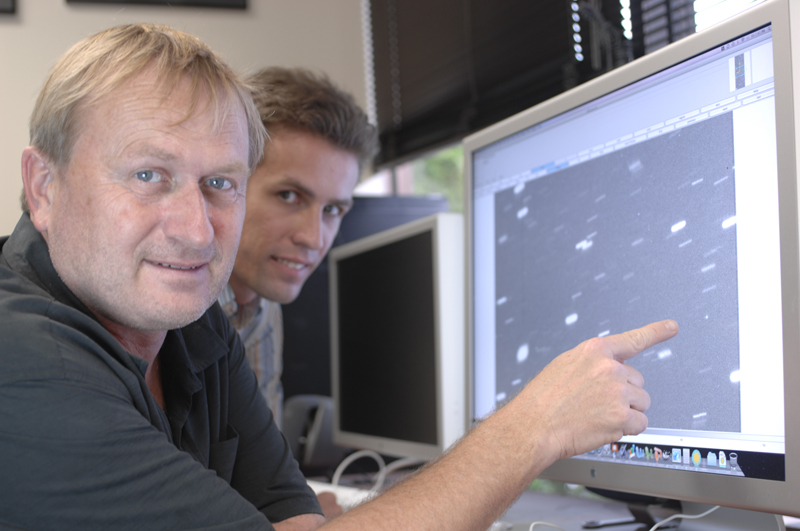 Richard Wainscoat (left) and Marco Micheli study one of the
near-Earth asteroids found on January 29. The asteroid is
the roundish dot near Wainscoat's finger.  photo by Karen Teramura

A new record was set on 29 January 2011 when the science team operating a new prototype telescope discovered not one Near-Earth Asteroid, not two, but nineteen in a single night!  "This record number of discoveries shows that PS1 is the world's most powerful telescope for this kind of study," said Nick Kaiser, head of the Pan-STARRS project.
One of the most difficult jobs astronomers have in outreach is encouraging spending in asteroid discovery programs, to give us sufficient warning of any potential asteroids that will collide with Earth, while avoiding the temptation to whip up false panic.  The risk of a catastrophic event is as real as it's likelihood is low.  We need to be prepared, but we don't need to be afraid.  As it happens, successfully completing the massive surveys needed to map all asteroids will solve the issue neatly.  We will know of all possible risks far enough in advance to be able to take action, and the knowledge that we can save ourselves will prevent wide-scale terror.
This is one of the goals of the University of Hawaii's
Pan-STARRS
project.  With the assistance of a consortium of private and government research institutes, they have built the
PS1
telescope on Mount Haleakala in Hawaii as a prototype for the final system (PS4).  Each of the finished telescopes will be 1.8 meter Richey-Chretien f/4 reflectors, equipped with the world's most powerful digital cameras.  The huge CCD detectors in these cameras will have a resolution of 1.4 GigaPixels, and measure 40 centimeters square.  The complete unit will have a field of view of three degrees, equivalent to six full moons in a row.  This wide field of view combined with the extreme resolution of the camera allows each telescope to scan the entire sky very rapidly.  By comparing images of any region taken a short time apart, asteroids can easily be spotted.
The new record is an astounding achievement, and a valuable early step to building a complete map of all potential hazards to the planet.