KELT-11b: an unusually puffy exoplanet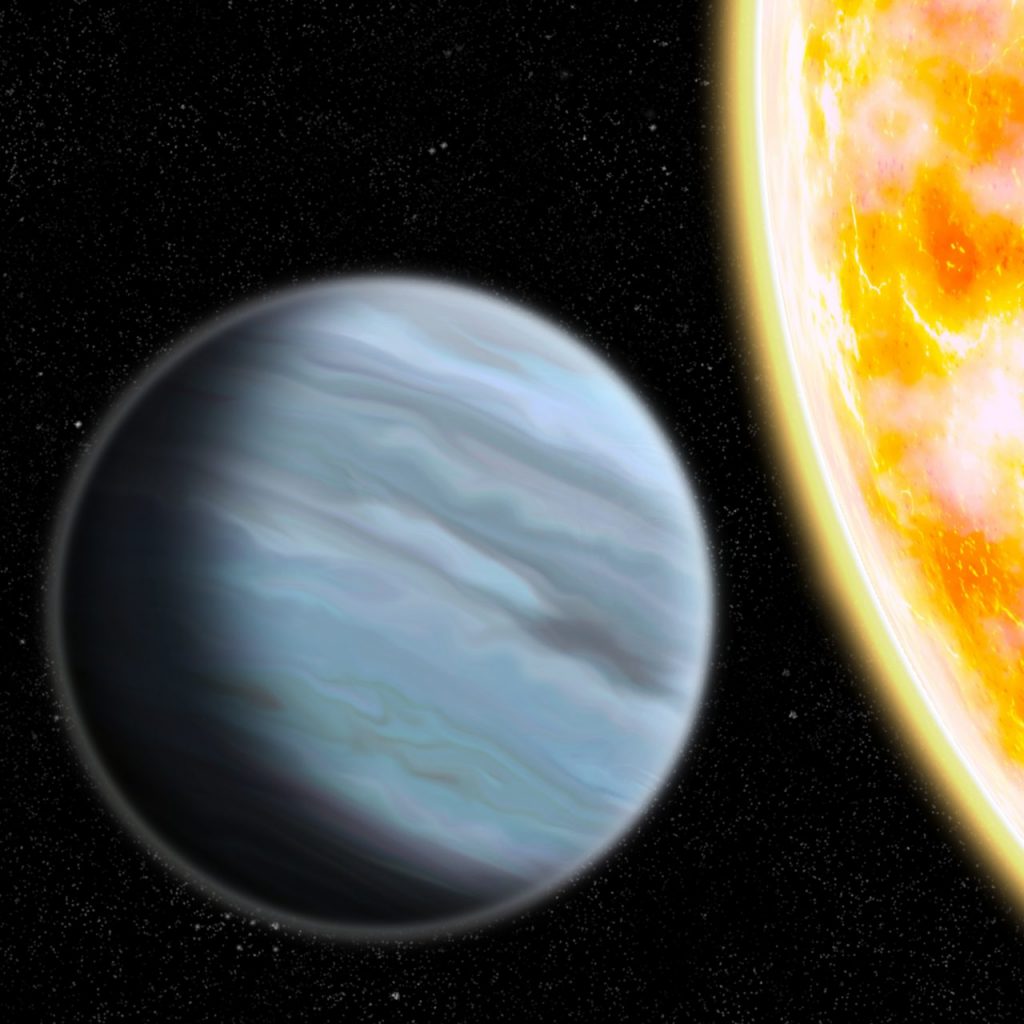 In the constellation of the Sextant, lies a star, invisible to the naked eye. Until recently it was known only by its catalogue number HD93396. But recently, a robotic telescope in Sutherland, South Africa, called KELT-South noticed something unusual about it.  Every 4.7 days, it's light would dim slightly, for seven hours.  KELT-South had found an exoplanet. The project scientists renamed the star KELT-11, and the planet KELT-11b.
KELT-South is one of a pair of robotic telescopes. The name is an acronym for Kilo-degree Extremely Little Telescope, and its job is to repeatedly scan a large portion of the sky, watching some five million stars for any changes in brightness that might indicate that they have exoplanets transiting across their discs. KELT-South's partner is called KELT-North, and is in Arizona, USA.
KELT11 is currently the brightest star known to have transiting exoplanets in the Southern hemisphere. At 8th magnitude, it is too dim to see with the naked eye but can easily be spotted through binoculars. Like most known exoplanets, it is what we call a Hot Jupiter, meaning that it is a gas giant, like Jupiter, but has an orbit so close to its star that it has a temperature measured in thousands of degrees Celsius.
It has an unusually inflated atmosphere, puffed out to a far larger extent than we might normally expect for a planet of that mass. Although KELT-11b is more than twice the size of Jupiter, it only has about a quarter of the mass, making it just a little lighter than Saturn. This makes it one of the most inflated and least dense planets ever discovered, with a density comparable to styrofoam!
The star is a sub-giant in the "Hertzprung gap", meaning that it is busy transiting between life stages. Stars spend most of their lives as what we call Main Sequence stars, powered by the fusion of hydrogen into helium in their cores. However, this hydrogen won't last forever and will eventually run out. When that happens, the internal structure of the star changes until a new equilibrium can be found. In the case of massive stars like KELT-11, this involves a region of hydrogen fusion forming in a shell around the depleted core.  The core, in turn, begins to fuse helium into other, heavier elements. KELT-11 is currently in this transition zone, where this shell has not yet formed, and since this is a very brief stage in a star's evolution, the researches have a very precise figure for its age. When the transition is complete, the star will swell, and over the next sixty or so million years, completely engulf KELT-11b.
KELT-11b is a very useful exoplanet because of how puffed out its atmosphere is. When starlight passes through a planet's atmosphere, astronomers can watch through a spectroscope. This measures how the light changes, which reveals what the atmosphere is made from. With KELT-11b's atmosphere being so thinned out and distended, astronomers will be able to see especially deep to see what it's made from.  This will let them learn a great deal more about how gas giant planets are built. And since this stage of the star's life is so short, in galactic terms, we're extremely lucky to have found it, with a planet that is so interesting to study!
Want to hear an audio version of this story?  Check out episode 8 of the Urban Astronomer Podcast!